In terms of sewage treatment, we know that there are stacked screw sludge dehydrator, belt filter press, belt thickener and so on. Why are so many equipment used to treat sewage? In fact, although they can be used to treat sewage, their performance and use are not exactly the same. Today, let's talk about the technical features and advantages of rotary drum thickener.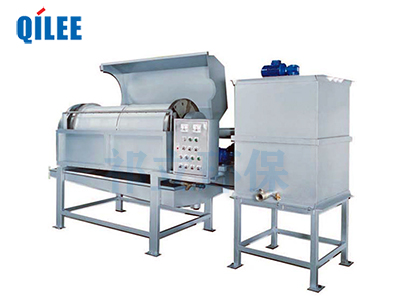 1、 Technical features of drum thickener
1. Each drum is driven by a reduction motor (0.37 kW). The frame is made of stainless steel SS 2333.
2. The drum thickener is equipped with a stainless steel cover plate which is easy to remove. The filter cloth is equipped with continuous flushing system, which is composed of stop valve, filter, solenoid valve and water pipe with nozzle.
3. The diameter of drum thickener is 400 mm, 600 mm, 900 mm or 1400 mm
4. Considering the size of the hydraulic load, the drum thickener can be installed on the belt filter press.
5. As the flocculated sludge is stably transported from the drum thickener to the belt thickener, no additional flocculant is needed.
6. When the drum thickener is installed on the belt filter press, the drum thickener drive is integrated into the belt filter press for automatic control.
7. In other applications, drum thickener is also suitable for thickener. When the drum thickener is used as a separate thickening system, the thickener is equipped with a separate automatic control cabinet.
2、 Advantages of drum thickener
1. Stainless steel equipment is not easy to wear, plastic bearing block to avoid corrosion
2. Reduce sludge volume (up to 90%) before storage or transportation
3. With the help of stainless steel spray rod with PVDF nozzle, intermittent or continuous automatic cleaning, low energy consumption and low operation cost
4. Full closed system, avoid odor pollution, flange with odor vent
5. Small footprint
6. Easy to maintain and remove the belt quickly
7. Easy to install (pre wired); skid mounted design makes the equipment easier to install and move when necessary, efficient and reliable design
8. The special cover plate is easy to access the spray pipe, and can automatically rotate the spray pipe to inspect or clean the nozzle. The additional hatch is used for drum inspection and cleaning.
The above is all about the technical characteristics and advantages of drum thickener, I hope it can help you.